Acupuncture for Companion Animals:
An Ancient Practice for Modern Pets
No pet should live with pain. Our very ownDr. Molly cares deeply about offering relief to animals suffering the effects of illness or injury. As a supporting service to preventive care, pet acupuncture can improve the quality of a pet's life.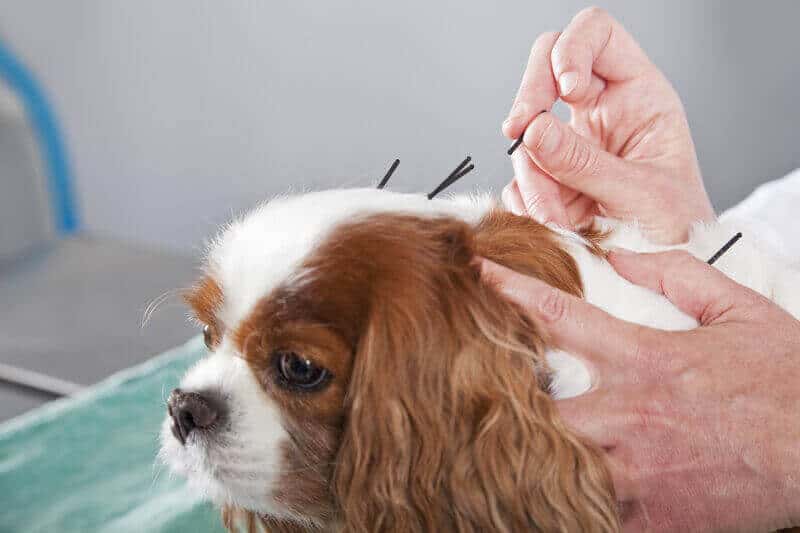 Balancing the energies flowing in and through a pet's body is at the heart of pet acupuncture. By inserting the fine tip of small, thin needles into specific points on a pet's body, we can alter or redirect these energies and create a healing effect. Increased circulation, pain reduction, decreased inflammation, and improved bodily systems are just a few advantages of pet acupuncture.
Common ailments treated by acupuncture include pain, arthritis, skin conditions, seizures, gastrointestinal issues, nerve damage, asthma, allergies, chronic conditions, post-surgery recovery, and stress/anxiety. It can take a few sessions for real change to be obvious, but most clients see progress after the initial appointment. Please call us at (936) 856-7387 to inquire about this service, or to schedule an appointment today.
Managing Expectations
Pets feel little, if any, pain when the needles are inserted into the outermost layer of skin. In fact, many of our patients feel so relaxed during their session, they fall asleep! Depending on which part of the body we're targeting and the effect we're trying to achieve, we usually leave needles in place for up to 30 minutes.
We provide after-treatment instructions to help you care for your pet at home. Generally, most pets experience no problematic symptoms and can continue on with their routine as they normally would. Some may be sleepier than normal and require rest and quiet time following their appointment. Alternatively, some pets behave in an excited manner afterward and are full of energy.
It is important to note that results from pet acupuncture vary between patients, conditions, and treatment plans. Acupuncture aims to treat the whole patient as they are during their appointment.
Laser Therapy
Cold laser therapy offers effective pain relief for pets suffering from injuries, arthritis, fractures, wounds, and other chronic conditions. Pets undergoing laser therapy for pain relief can also experience increased mobility and may often forego pharmaceutical pain relievers.
Laser therapy is also beneficial for pets recovering from surgery and can repair tissues and accelerate the body's natural healing process. The procedure is safe, and the warming sensation of the laser is pleasant and relaxing for your pet.
Schedule an Appointment Today!
Willis Animal Hospital is among the few local hospitals providing this increasingly-popular service to our community's pets. Part of a well-rounded approach to pet wellness, our staff is proud to provide this service to all of our patients, regardless of size, age, or breed.
Call us at (936) 856-7387 with any questions or concerns about how pet acupuncture can impact your pet's health. We can't wait to help your pet feel better!